It's a magical time of year in the Little Easy as Christmas comes to town. Locals and Tourists alike are welcome to partake of the upcoming festivities. We've listed a few of the most notable events for this year below.
You can find the complete list the Christmas In Natchez website: You can find a full list of Christmas Events on their website: https://www.christmasinnatchez.org/events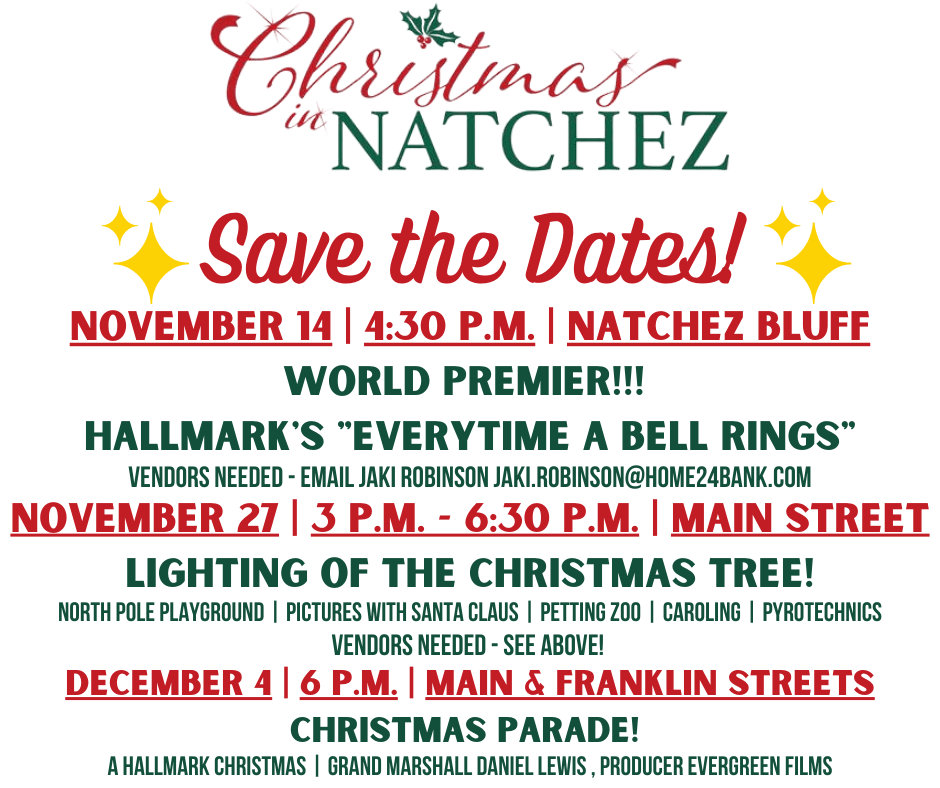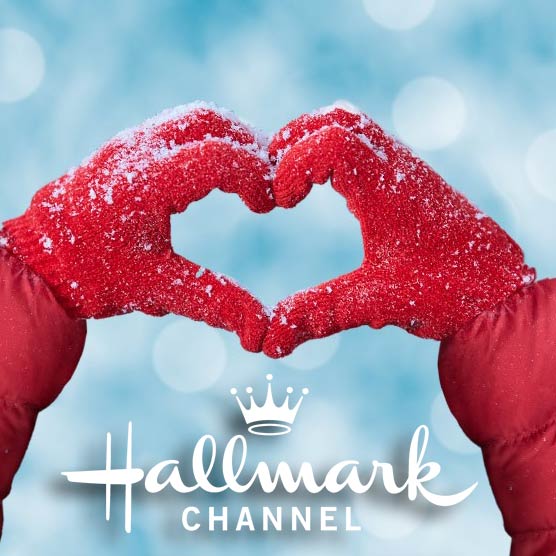 "Every Time A Bell Rings" WORLD PREMIERE
Sunday, November 14th, starting at 3:30pm
The Bandstand on the Bluff, Downtown Natchez, 39120
Come out to The Bluff to celebrate the first showing on a big screen of the new Natchez Hallmark Christmas Movie! Bring your hot chocolate, lawn chair and favorite Christmas quilt – and we're raising money for Christmas in Natchez and the Natchez Adams Humane Society.
The storyline of the film is three sisters reuniting in their hometown, Natchez, MS after having drifted apart. They discover that their late father has left notes behind to send them on one last scavenger hunt to find the family's special treasure……the wooden wishing bell.
Cast includes: Erin Cahill, Brittany Ishibashi, Ali Leibert and Wes Brown
Vendors open to the public starting at 3:30, and the VIPs arrive on our Red Carpet beginning around 4:30.
---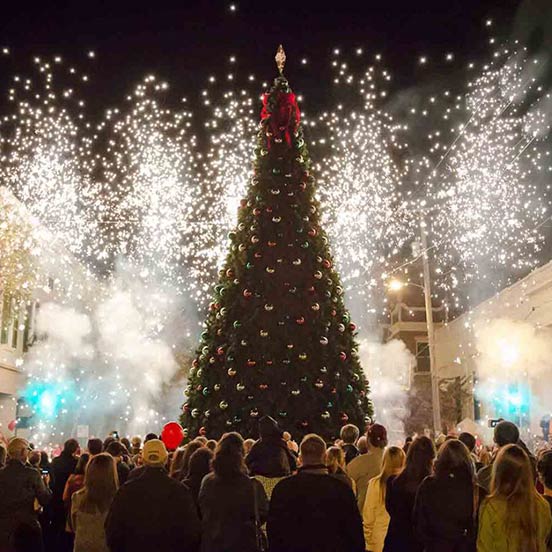 Annual Christmas Tree Lighting
Saturday, November 27th • 3pm – 6:30pm
Intersection of Main & Commerce Streets Natchez
Come join us as we kick off the holiday season! It's time to heck the halls and boughs with the Annual Lighting Ceremony! There will be a North Pole Playground, Pictures with Santa, Petting Zoo, Caroling, Pyrotechnics and more!
At 3:00, Santa will arrive to take pictures inside Home Bank with cookies and hot chocolate. Snowmen, elves, and reindeer will be seen watching the kids play in the North Pole Playground.
The Markets will have an area with cookies for kids to decorate. This year, we are adding a petting zoo!
We will also have food trucks in case you get hungry, and vendors will be there share their ware. At 6:00 we will gather around the tree in anticipation of the big event. At 6:15 we will all sing Christmas carols around the tree and at 6:30 pm we will light the tree in the middle of downtown with an exciting pyrotechnic show.
---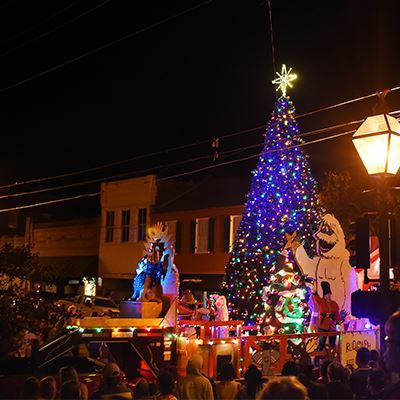 Annual Holiday Parade: "A Hallmark Christmas"
Saturday, December 4th, beginning at 6pm
Main and Franklin Streets in Downtown Natchez
The annual Christmas Parade in downtown Natchez will be on Saturday, December 4th. The parade will start at 6:00 pm and will go East on Franklin Street, turn at right Rankin Street, and then West on Main Street.
Our theme this year is "A Hallmark Christmas", and we welcome our Grand Marshall: Daniel Lewis, Producer of Evergreen Films.