"

Highly recommend Gardensong. The Nat King Cole suite exceeded our expectations. Very comfortable room. Beautiful personal balcony and view of garden. 

"–
Ashley on AirB&B
"My husband and I stayed one night and wished we could stay longer. We were in the Nat King Cole suite and enjoyed sitting on the balcony in the evening and morning. We plan to return."–
Debra H. on TripAdvisor
The Nat King Cole Suite
Bright, Spacious, and Luxurious – Our Most Popular Room!
The mansion's original master bedroom features its own private second floor balcony overlooking our historic formal garden and beautiful Washington Street – the heart of Natchez' Historic Garden District. Get a good nights rest on a lovely King-Sized Canopy Bed, complete with plush linens and feather pillows. The bathroom is large, and offers a vintage shower and tub combo. Enjoy a Flat Screen Television with ATT U-verse and Free Wifi. You will also enjoy the record player, complete with a great collection of classic vinyls. There is also a Mini Fridge and Keurig Coffee Maker.  
Our Amenities
GardenSong Guest House is a small boutique hotel featuring all of the luxurious amenities one would expect.
While a hot breakfast service has been paused due to Covid, you'll find breakfast vouchers to a nearby cafe are included in your stay. In addition, there are great breakfast, brunch, lunch, and dinner options just a few blocks away in Downtown Natchez!
Fine Bed Linens
Feather Pillows
Luxurious Towels
Complimentary Beverages Upon Arrival
Satellite TV
Free Wifi
Hair Dryers & Other Essentials
Luxurious Parlor with Comfy Couches
Elegant Dining Room with Garden Views
Pet Friendly!

 

Polite pets welcome; $10 per Pet, per Night Deposit applies
A Grand Piano
Books and Current Magazines for Days!
Front Porch and Garden Seating – a Retreat from the World!
Wedding and Special Event Facilities for small groups
Candlelit Dinners May Be Offered on Weekends with Advance Reservation
Cancellation Policy
Full payment is collected at the time of booking. Cancellations are allowed up to two weeks prior to each stay, and a full refund will be issued.
Due to high demand, cancellations within two weeks of one's stay shall not be refunded.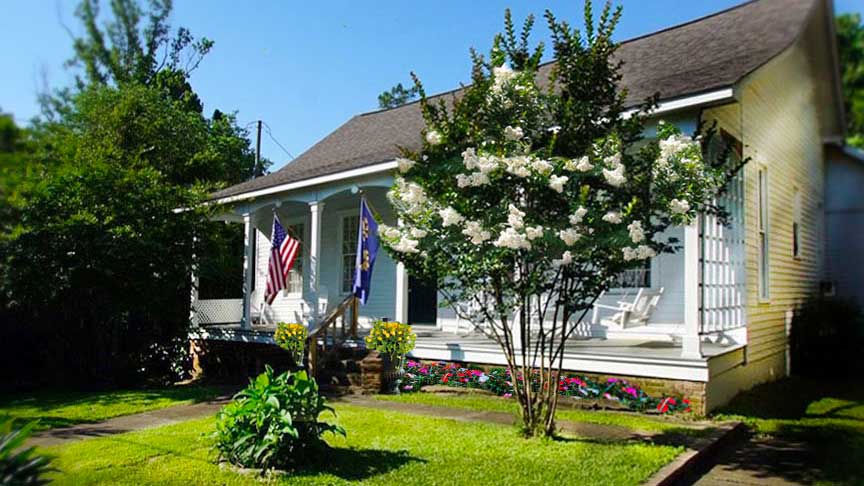 The Mayor's House
"This is an awesome place for a quiet family getaway! So much space available in the living areas, with front & back porches to enjoy as well. All on a quiet street near everything in Natchez."