"

I could have stayed anywhere in Natchez during the first week of September, as it is not the busiest time there. I researched all the places thoroughly and chose GardenSong and 

the Clark Gable Suite. T

his was the best choice, undoubtedly.

 

"–Thomasville1
"Historical accuracy is becoming more important to visitors. Gardensong delivers! Yes, you CAN find historically accurate lodging w/comfortable amenities. Clark Gable room was perfect! Cool, comfy mattress. Double sinks. Extra room attached, w/2 twin beds, books & TV. Great location. No noise from other rooms. Quiet Street. Lovely garden. Enjoyed the stories & history!" –Amy on AirB&B
The Clark Gable Suite
Rest your head where Rhett Butler slept!
One of our most luxurious rooms, the Clark Gable Suite, is a two bedroom suite that accommodates up to four. Located on the second floor, this room is famous in Natchez: Clark Gable, the Film Legend from Hollywood's Golden Age and star of "Gone With the Wind," was a personal friend of Sam Abbott – a Hollywood Executive who just happened to grow up at GardenSong! Mr. Gable loved visiting Natchez, and when he did, this was his room!
The room contains some unusual features, including old pickled paneling and an enclosed portion of the old "sleeping porch". Be sure to check out the old antebellum commode… if you can find it. The suite's two bedrooms offer a good nights sleep on a Queen-Sized Tester Bed and two twin beds, all complete with fine linens and plush feather pillows. The bathroom includes a nice shower, two sinks, and Hollywood Dressing Room lighting around the mirror!
Enjoy Two Flat Screen Televisions, one in each bedroom, with ATT U-verse and Free Wifi. You will also enjoy the record player, complete with a great collection of classic vinyls. There is a Mini Fridge and Keurig Coffee Maker.
Our Amenities
GardenSong Guest House is a small boutique hotel featuring all of the luxurious amenities one would expect.
While a hot breakfast service has been paused due to Covid, you'll find breakfast vouchers to a nearby cafe are included in your stay. In addition, there are great breakfast, brunch, lunch, and dinner options just a few blocks away in Downtown Natchez!
Fine Bed Linens
Feather Pillows
Luxurious Towels
Complimentary Beverages Upon Arrival
Satellite TV
Free Wifi
Hair Dryers & Other Essentials
Luxurious Parlor with Comfy Couches
Elegant Dining Room with Garden Views
Pet Friendly!

 

Polite pets welcome; $10 per Pet, per Night Deposit applies
A Grand Piano
Books and Current Magazines for Days!
Front Porch and Garden Seating – a Retreat from the World!
Wedding and Special Event Facilities for small groups
Candlelit Dinners May Be Offered on Weekends with Advance Reservation
Cancellation Policy
Full payment is collected at the time of booking. Cancellations are allowed up to two weeks prior to each stay, and a full refund will be issued.
Due to high demand, cancellations within two weeks of one's stay shall not be refunded.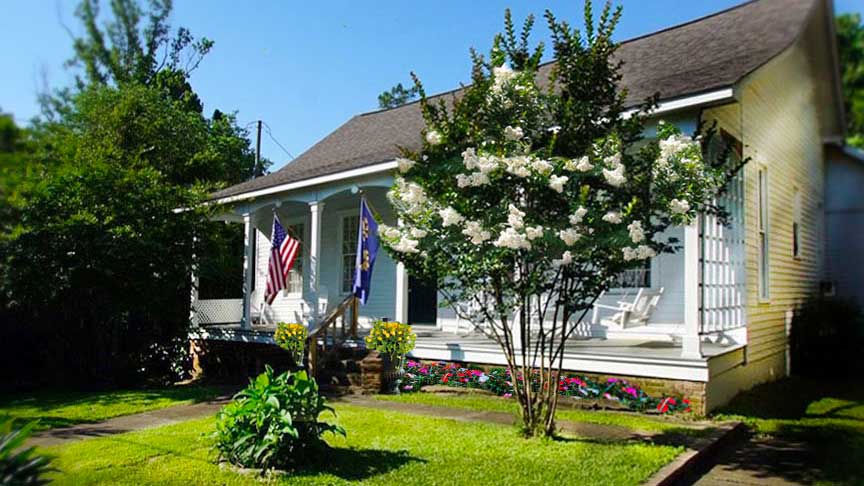 The Mayor's House
"This is an awesome place for a quiet family getaway! So much space available in the living areas, with front & back porches to enjoy as well. All on a quiet street near everything in Natchez."