Welcome to GardenSong
A trip to the Garden District in Natchez, Mississippi, will transport you into another world. Enjoying an intimate getaway for two or a special event with your family couldn't be easier when you stay with us at GardenSong Guest House. Experience the magic of this historic home located just a few blocks from the Mississippi River.
"One of the most beautiful gardens in Natchez…" – Traditional Home Magazine
"Viewed from the balcony, the formal character and design become apparent. Brick walls border neatly trimmed parterres…" – Southern Living Magazine
"Washington Street in Natchez… DREAM STREET…" – HGTV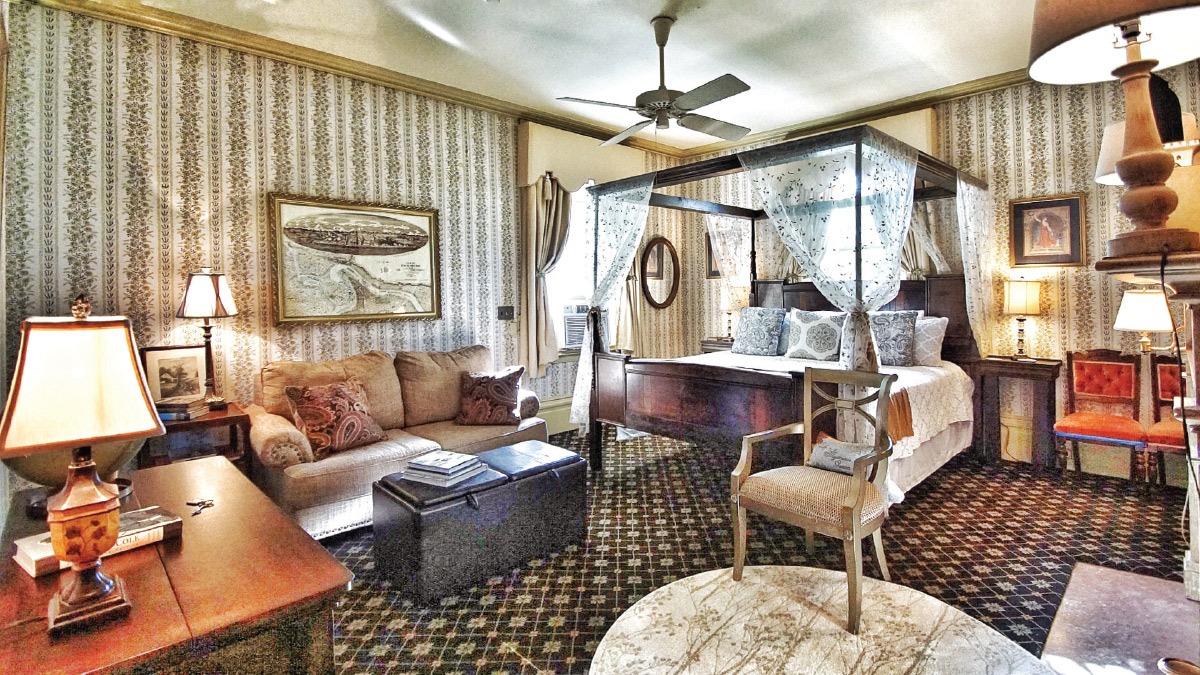 Nat King Cole Suite
The mansion's original master bedroom. Featuring a lovely King-Sized Canopy Bed, plush linens and feather pillows. Bright, spacious and luxurious, with its own private second floor balcony.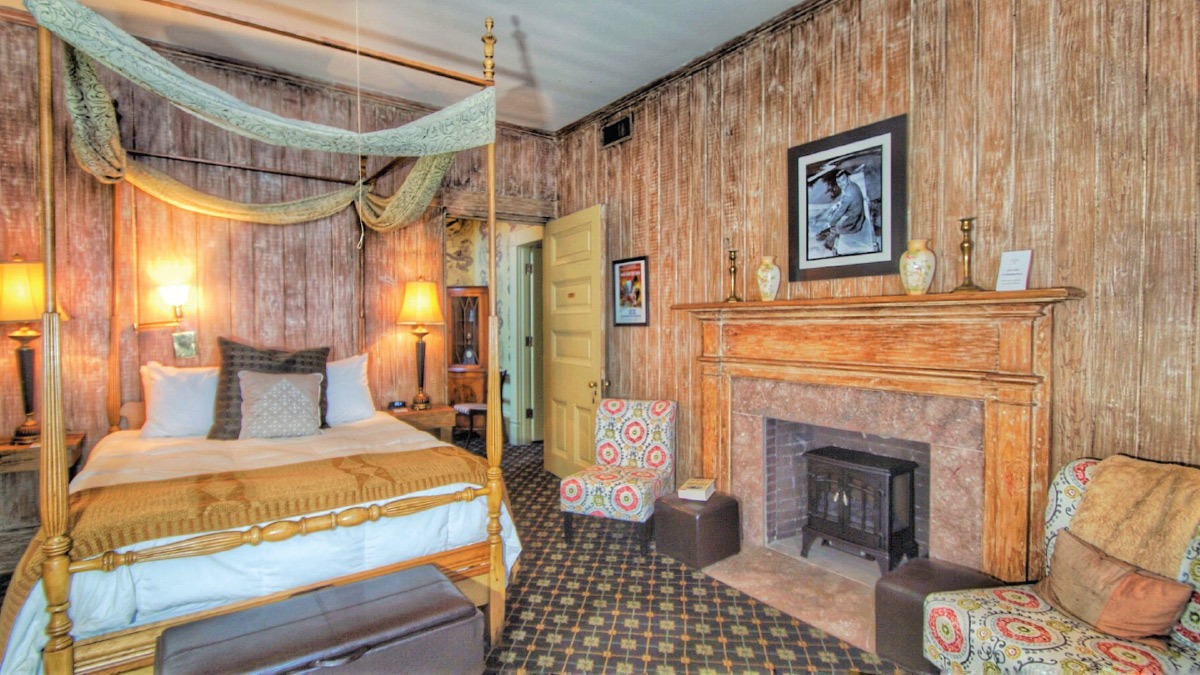 Clark Gable Suite
Sleep where Rhett Butler slept! This second floor, two bedroom suite is a famous in Natchez. A Hollywood Legend, Mr. Gable loved visiting Natchez, and when he did, he stayed in this room!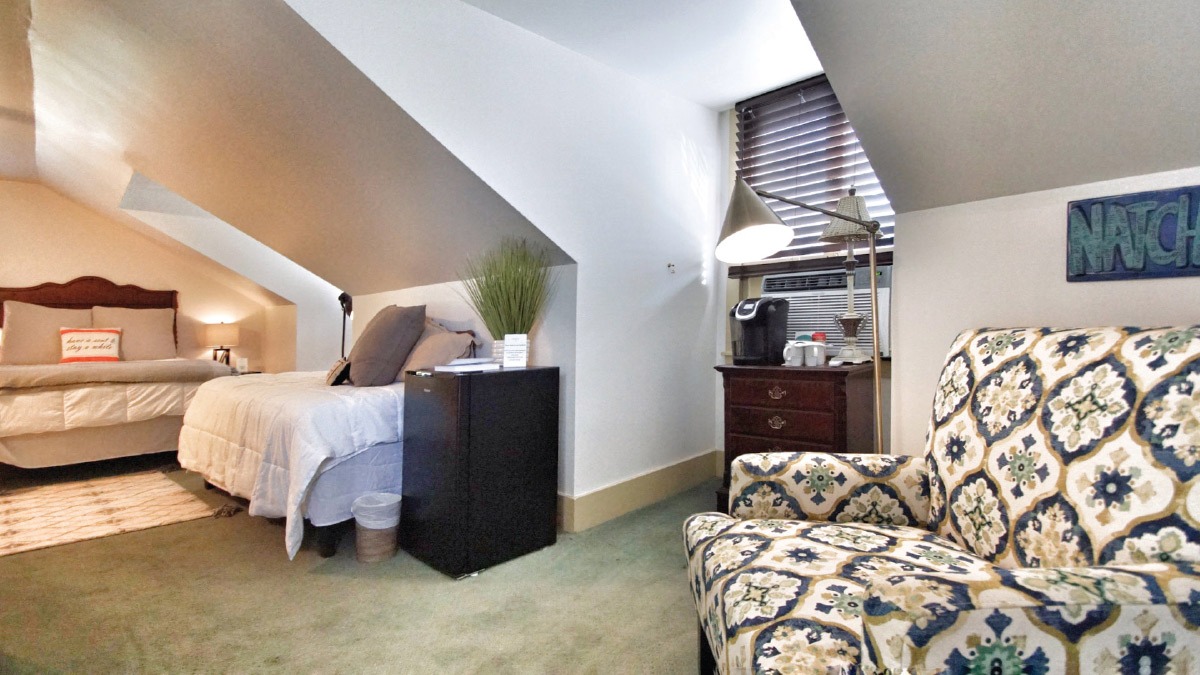 Vivaldi Suite
Recently renovated, this third-floor suite features a queen-sized bed and a twin bed, complete with fine linens and feather pillows. Enjoy views of Natchez' historic rooftops and the property's gorgeous gardens.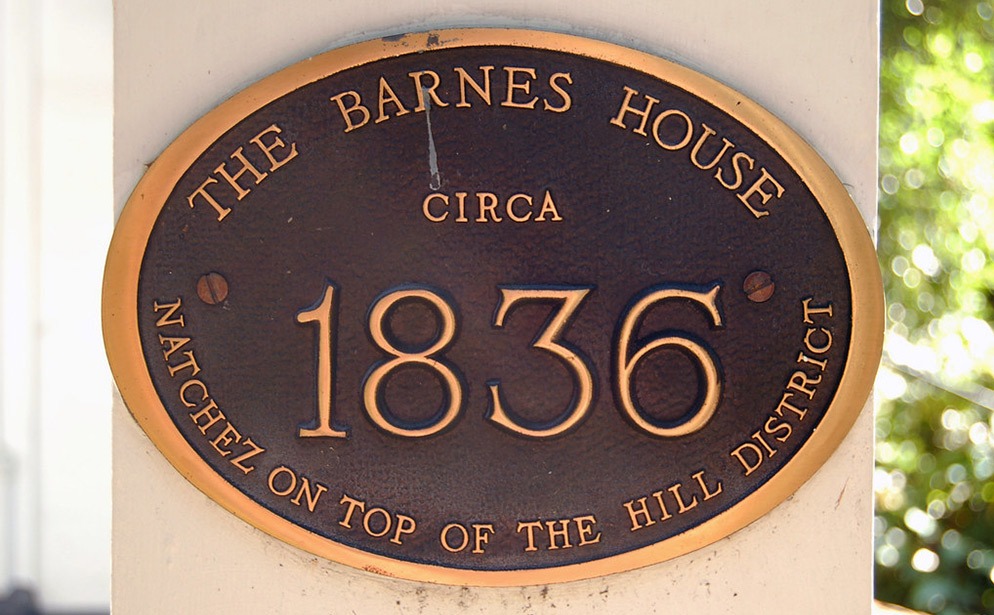 This is a very special home, built in 1836 of pre-cut materials and architectural details hand-crafted in Cincinnati and floated down the Mississippi River. It is one of four on the north side of Washington Street, built by developer E.P. Fourniquet – an industrious French gentleman who also built Green Leaves across the street in 1838 in much the same way. You might consider these to be some of America's earliest "pre-fab" houses! All share similar mantels, staircase designs, doors, and moldings. If you get a chance walk down the street and you will see them on your right… each one standing three stories tall but with its own individual distinction and character.
GardenSong was greatly enlarged from its original four rooms (two up and two down) by subsequent owners. About 1890, Mrs. Sam Abbott added a one-story dining room and kitchen wing along with bay windows salvaged from a nearby house that had burned. Years later, Dr. Robert Barnes and his wife, Dr. Bettina Barnes, further enlarged the home and gardens into what we enjoy today. While digging in the side yard of the home in the 1960s, they discovered the old brick foundations of the original formal garden, and this became the inspiration behind the parterre garden and Venetian fountain on the east side of the house.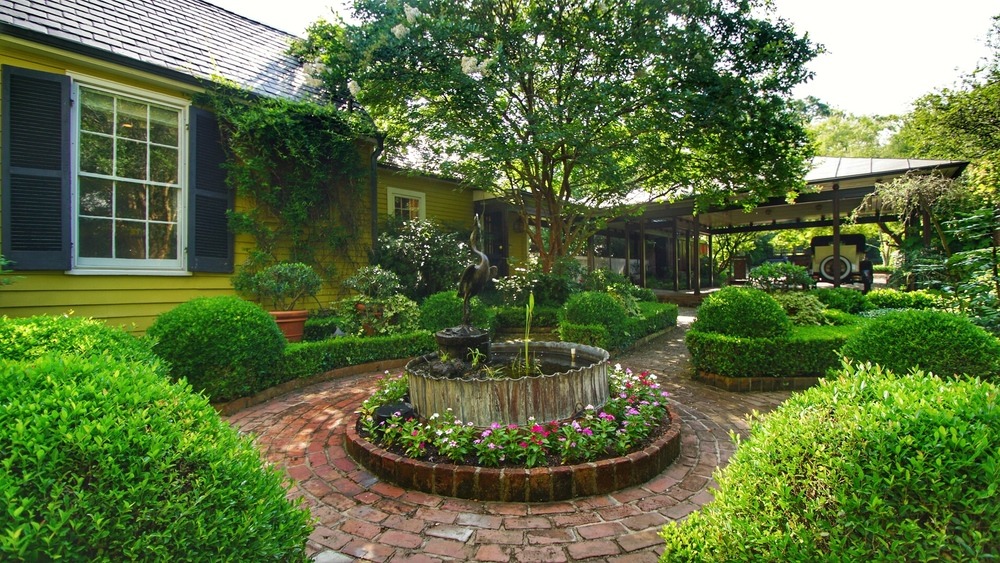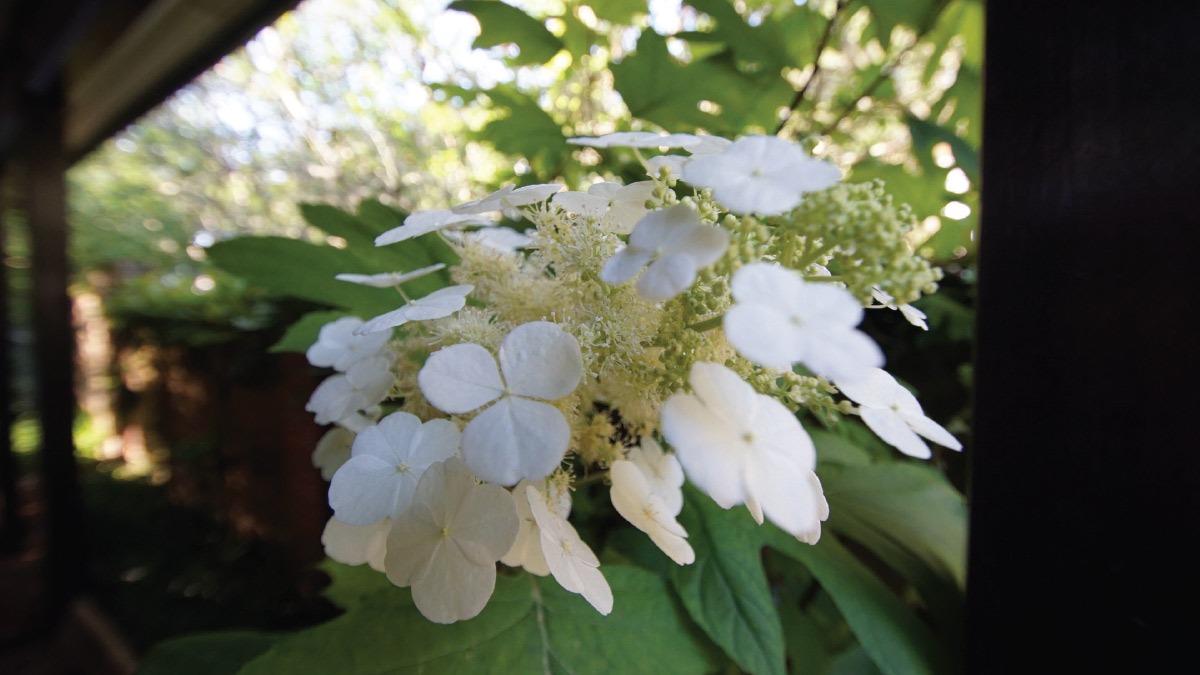 GardenSong's historic gardens have been celebrated in magazines, books and newspapers all over, including Traditional Home, Southern Living, The Christian Science Monitor, and Natchez Magazine to name a few…
Restored in the 1960's by then-owners Bob and Bettina Barnes, GardenSong's historic formal garden is one of the finest you will ever see. The original parterre is lovely with an antique bronze fountain from Venice. At the end of the long lawn, be sure to discover the private patio, surrounded by high brick walls. It is a lovely retreat from the world. Enjoy the rockers on the front porch! And lovely benches are scattered about for further enjoyment and relaxation among the countless shrubs and flowers.
Our Amenities
GardenSong Guest House is a small boutique hotel featuring all of the luxurious amenities one would expect.
While a hot breakfast service has been paused due to Covid, you'll find breakfast vouchers to a nearby cafe are included in your stay. In addition, ther are great breakfast, brunch, lunch, and dinner options just a few blocks away in Downtown Natchez!
Fine Bed Linens
Feather Pillows
Luxurious Towels
Complimentary Beverages Upon Arrival
Satellite TV
Free Wifi
Hair Dryers & Other Essentials
Luxurious Parlor with Comfy Couches
Elegant Dining Room with Garden Views
A Grand Piano
Books and Current Magazines for Days!
Front Porch and Garden Seating – a Retreat from the World!
Wedding and Special Event Facilities for small groups
Candlelit Dinners May Be Offered on Weekends with Advance Reservation
Pet Friendly!

 

Polite pets welcome; $10 per Pet, per Night Deposit applies
Cancellation Policy
Full payment is collected at the time of booking. Cancellations are allowed up to two weeks prior to each stay, and a full refund will be issued.
Due to high demand, cancellations within two weeks of one's stay shall not be refunded.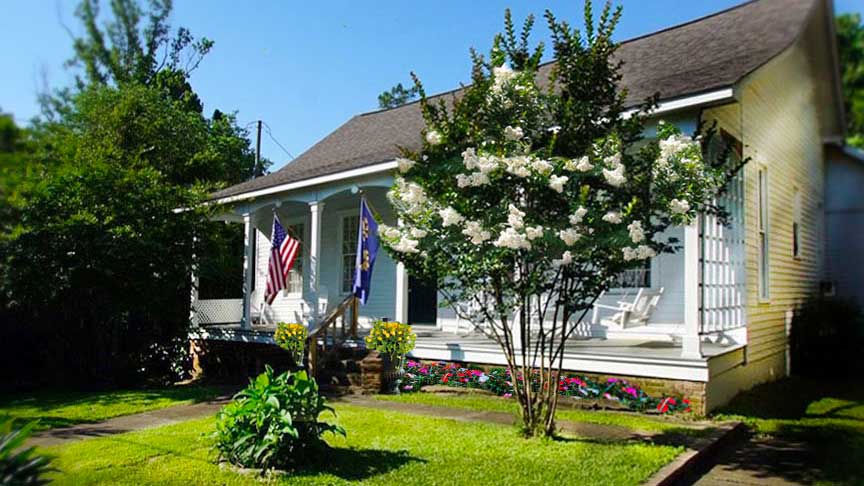 The Mayor's House
"This is an awesome place for a quiet family getaway! So much space available in the living areas, with front & back porches to enjoy as well. All on a quiet street near everything in Natchez."