Perfect for history buffs and lovers of ghost stories, The Annual Angels On The Bluff for 2021 will held be November 11, 12, at 13, at the Historic Natchez Cemetery, starting at 5:15 pm each evening
This nighttime tour features local actors and descendants play memorable or notorious Natchez residents who now find their eternal rest at the Cemetery. It's an informative and entertaining event of selected gravesites, as these revenants reveal some of the histories, romance, tragedy, and mystery of Natchez that you may not experience with your standard antebellum home tour.
Proceeds from this annual tour benefit the Friends of the Natchez City Cemetery and help with the on-going improvements and maintenance to this historic resting place.
Admission is $35.00 each.
Thursday, November 11, 2021 from 5:15 pm to 9:15 pm
Friday, November 12, 2021 from 5:15 pm to 9:15 pm
Saturday, November 13, 2021 from 5:15 pm to 9:15 pm
(601) 445-5051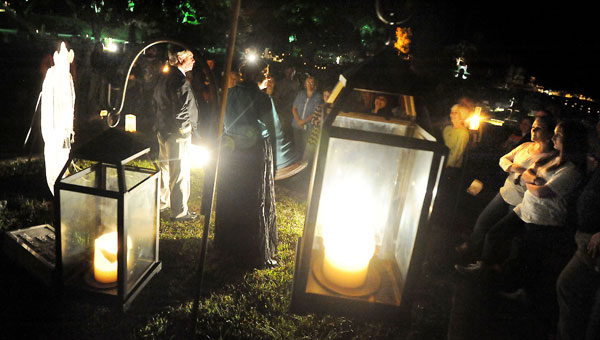 In addition, there is a 20th Anniversary Booklet on Angels On The Bluff, containing additional information on all of the people portrayed during the Angels on the Bluff tours over the past 20 years. The Booklet is $20 each with proceeds benefiting the Friends of the Natchez City Cemetery. It is available for purchase at the Cemetery Main Office, Mrs. Holders Antiques, The Nest on Franklin Street, or by mail at the address below.

Natchez City Cemetery • 2 Cemetery Road (P.O. Box 1738) • Natchez, MS 39121
---
There is also a self-guided tour CD perfect for any day of the year! The tour CD is available for purchase at the Cemetery's Main Office or at the Natchez Visitor Reception Center.
---
Please note that this event date is tentative and the tour could be changed or cancelled based on public health guidelines. Do get tickets early, as they are prone to selling out! The Natchez City Cemetery advises you follow their Facebook page or official website for up-to-date information.
The Natchez City Cemetery is open daily, beginning at 7:00 am CST. The Cemetery closes at Dusk when the gates are locked.